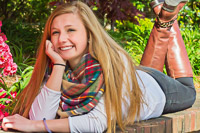 Since the senior year of high school culminates one's high school experience some students will schedule a Senior Portrait sesion to record the high school experience. After 12 years of study, setbacks, and achievement, completing that final high school year really is a big deal.
Kennedy's High School Senior Photos
If you think about it, completing high school is a major accomplishment in life. It also signifies the entry into adulthood as well as college for many.